To find your website homepage, you click 'website' on the left-hand side of the screen (see screen image below).
Your homepage allows you to provide information such as:
Information on your venue - e.g. a map showing your location / how to find the club.
A photo gallery - you can have 5 photos maximum
Highlight your partners / sponsors
Feature your membership (add via the membership tab) - hyperlink to be added
Step 1:
Make your homepage visible via the 'show in navigation' toggle. All you need to do is click the right side of the toggle and it'll turn blue to show you it's been switched on.
Within this section, you can choose the 'navigation sort-order' by numbering the page (i.e. '1' for the first page). And add your navigation text, this will give the page a name (i.e. home for the homepage) and this name will appear to everyone who visits your website.
Step 2:
This section allows you to add the 'main header text' that will appear beside your header image(you can use the name of your venue for this field). You also have the 'sub-header text' which appears above 'main header text'.
The sub-header text field can be used for making the page look more friendly and have a greeting such as 'Welcome to' this is added to your main header text and will read as 'Welcome to (name of venue)'.
To add your header image, you'll need to click 'browse for images' and choose an image from your device that you want as the website header.
NOTE: For best viewing of this photo we recommend uploading a header photo with dimensions of 1800px by 440px.
The focal point of the header image is the centre, anything of importance (i.e your venue logo) that is close to the top/bottom left or right edges of the image may get cutoff of smaller screens. You can add your logo in the Website Settings, which will display on all pages.
Step 3:
Here you can add information that would allow both prospective and existing members to know what your venue has to offer (such as facilities, group sessions held at your club etc). The font layout and formatting can be changed via the tools above the introduction text box.
Step 4:
To upload a photo to the photo gallery, click 'browse library' and select a photo from your device. Next, you'll click 'upload' and then 'choose' to add it to the gallery. Only 5 images may be added.
NOTE: For best viewing of these photos, we recommend uploading photos with dimensions of 566px by 378px.
Step 5:
You have the option to show any NVBTW open days that you are running at your venue they will appear on your home page by default. If you don't want them to appear you can use this option to hide them.
Skip to Step 6 if you do not want to change these settings
To hide these events click on the 'grey toggle' to change this blue which will hide the NVBTW promo'.
Step 6:
You have the option the upload three partner logos, to upload a logo. Click 'browse for images' and choose an image of the partner' logo. You can also include their name and link to their website, so when clicked on the user will be redirected to your partner/sponsors website.
Skip to Step 7 if you do not want to upload/ make changes to this section.
NOTE: For best viewing of these images we recommend uploading images with the dimensions of 180-480px by 180px. You can also add the partner name and website.
You can have up to three partner logos.
If you need to edit/resize any of your images to make sure they are within the recommended size, please have a look at our Edit Images Guide.
Step 7:
All you need to do is fill in the important information heading and the text box. To make this page visible click the grey toggle and it'll turn blue to indicate it's been switched on.
Skip to Step 8 if you do not want to use/make changes to this section.
This field allows you to have separate information that you deem as important for members to know. This could be COVID updates or any important information such as a change to requirements for new joiners.
Step 8:
This field will optimise the search engine results so that it's easy for players to find your club when searching on google.
Skip to Step 9 if you do not want to use/make changes to the section.
We have a support guide which will provide further information on this for you to take a look at, should you wish to use this feature.
Step 9:
You'll need to scroll to the bottom of the page to 'save' all of the information you have to just entered into your homepage (see screen image below). You'll click the blue 'save page changes' button to do this.
Trouble Shooting: Occasionally - when viewing your website on a mobile device, you may see that there is a black line as shown below:

To resolve this please check the following steps to see if you can self resolve - if this doesn't work then please raise a ticket with the team and we can investigate further:
1) Do you have links to other websites? If you do, then make sure the links are imbedded within the hyperlink. To do this How To Add A Hyperlink and this should resolve the issue.

2) Sometimes a word can be too long, in the example below. The Heading is AnyServeTennisOrganization. If you put a space in between the words it will resolve itself.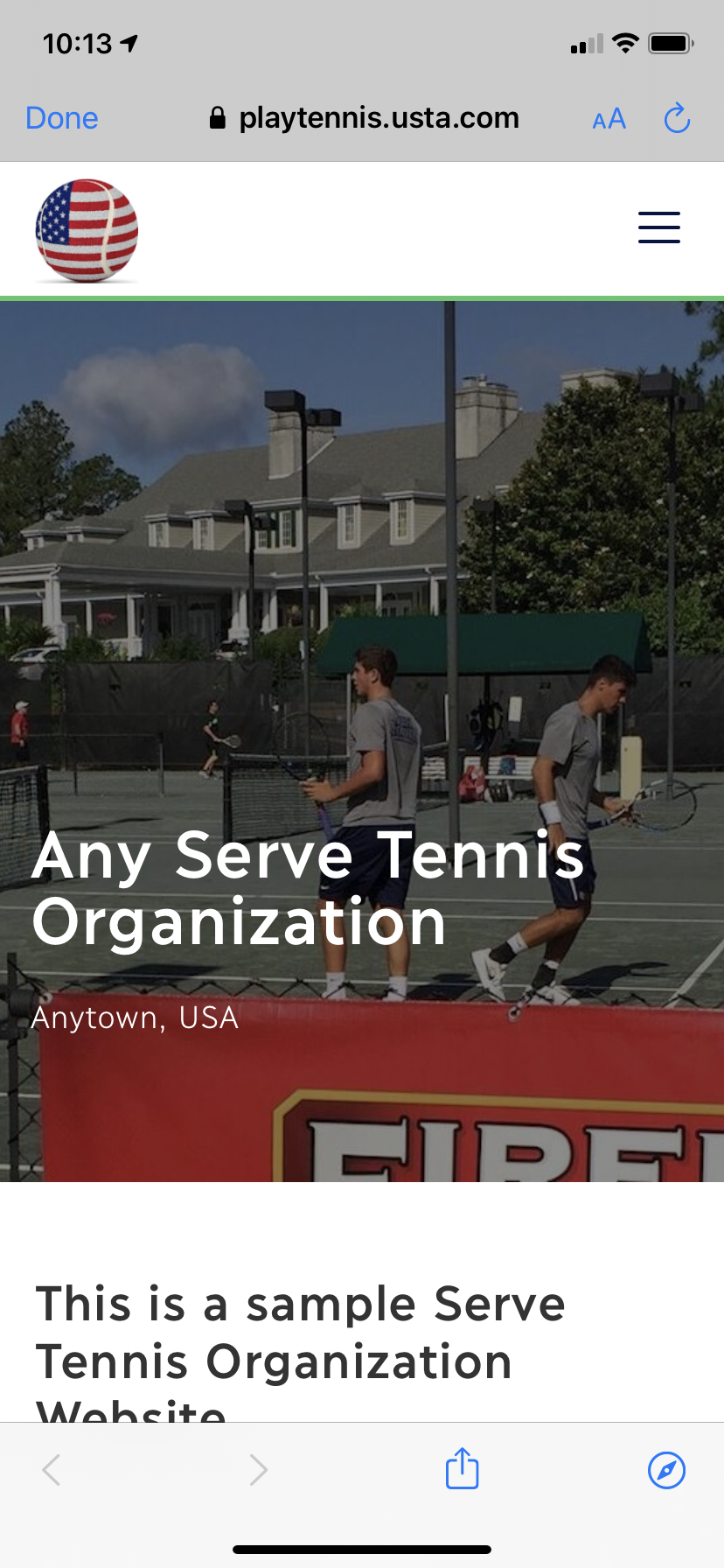 Further help: Please see our video tutorial on how to set up your homepage below.
Video Tutorial
Running Time: 3:19